Yoga for recovery – Rose at Bonne Santé explains the benefits
What: An explanation of the benefits of yoga for recovery from your day on the slopes by Rose at Bonne Santé.
Why: Get the most out of of your skiing or snowboarding and protect your body
Where: Bonne Santé offer group yoga classes in Val d'Isere and Tignes, as well as one-to-one sessions in the comfort of your chalet.
When: Throughout the winter season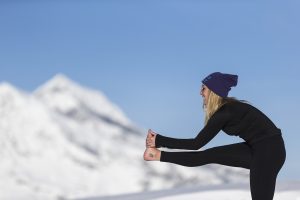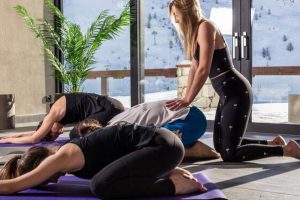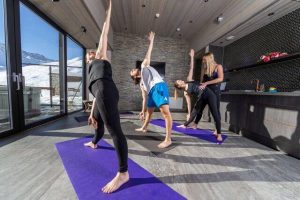 We asked the super-talented and knowledgeable yogi Rose from Bonne Santé to give us a run-down of the benefits of yoga for recovery from a day on the slopes, it makes for a really interesting and informative read.
" Yoga recovery –  a return to a normal state of health, mind, or strength.
Have you ever woken up the next day post an epic day on the slopes feeling achy and stiff? 
It's no coincidence that some of the biggest names in skiing and snowboarding all over the world include yoga within their lifestyle. Jenny Jones, Lindsey Vonn, Travis Rice, Jamie Anderson, Bode Miller, Chemmy Alcott, Hannah Teter, Hermann Maier and Amie Engerbretson, just to name a few.
For winter sports fans, yoga offers countless benefits to performance, refined technique, better balance, injury prevention, the ability to fly (and ability to coming back down again safely) and what I believe is the main selling point for your average holiday maker/fun time sender…RECOVERY.
Let's take it back to basics, yoga is stretching and building strength. Albeit for both the mind and body, I fear when I start discussing mental well-being and mindfulness I can occasionally lose, for a variety of reasons, some people's attention. So, for the sake of inspiring the widest audience I am going to focus mainly on the physical positives of yoga in this short blog. 
Snowsports, whether you are a beginner or a pro, require movement patterns that rely on midline/core stability and control along with agility, balance, flexibility and coordination. Essentially, yoga provides a platform to practice these qualities alongside restoration. 
I've established from a variety of clients, all with differing levels of experience on the mountain, that to get the most power or optimum performance, they have had to slow down and focus their mind on the present moment. That in fact, if you go step by step, concentrating on form or what you need to do, you can achieve more success. A mirrored mentality within yoga. 
To be conscious of movement and breath, analysing or reacting from any areas of particular tension or restriction, listening to your body and what it needs. 
But let's put it in black and white.
In yoga when you stretch, move and massage your soft tissues post intense exercise you are:
Relieving muscle tension/soreness
Reducing muscle pain/stiffness
Reducing muscle spasm and swelling
Decreasing risk of injury from overworking or muscle tightness
Decreasing joint pain
Increasing local blood flow
Promoting the delivery of oxygen and nutrients
Increasing flexibility and range of motion
Enhancing clearance of substances such as blood lactate or creatine kinase
Increasing a parasympathetic response – relaxing – facilitating recovery
You regain your pre-exercise range of motion. You recover. 
The rate and quality of recovery is extremely important for optimal performance and furthermore, improvement. The real work lies in giving your body time and attention to adapt to the stress of your exercising, so that you are stronger for the next day. 
Ultimately, yoga via a variety of specific muscle group sequences will help you unwind the body and stretch out and release all that has been engaged in the high energy fun.  Even just one or two practices in the week will physically help you get back up the mountain as your best self. And when you have spent that much money on all the gear, equipment and passes…does that not make it worth a try?
Get the most out of the mountain yogis! 
Bend it to send it. All the cool people do. "
If this has whet your appetite to get on the yoga mat on your ski holiday (as it has us!), please contact us to book: concierge@valdiserelocation.com