Val d'Isere – a fantastic resort for mountain biking in summer
What: Mountain biking in Val d'Isere
Why: Amazing bike park and lots of trails with fantastic scenery
Where: Val d'Isere
When: June 29th to September 1st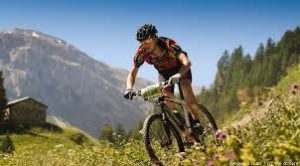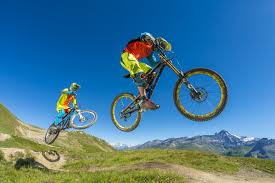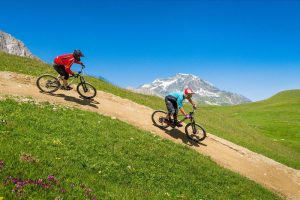 Val d'Isère really is a fantastic summer mountain biking resort. The Val d'Isère bike park together with the XC trails of the wider resort offer the mountain biker a huge range of great riding, and all surrounded by the amazing Alpine scenery!
Val d'Isère joins forces with Tignes again this summer to bring you 150 km of first-class mountain bike trails. And the lift pass for bikers is free!
The Val d'Isère bike park offers a huge variety of terrain from high-altitude rocky trails to switchback singletrack. There's something for everyone whether you're looking for mellow trails or you're a downhill junky craving fast, steep and technical black runs.
To get into the swing of things take the Bellevarde gondola up from the town and ride the fast and flowy, 6.5 km Val Bleu run back down.
Once you're warmed up, hit the red Rhododendrons track which drops 850 m in 4.8 km. Fast and open at the top, it quickly gets steep and technical before you transition into a lovely fast, flowy section complete with jumps and berms. The bottom section is solid switchbacks through the trees. An amazing run.
The mountain bike area will be open from June 29th to September 1st and the Val d'Isère / Tignes connection will open from July 15th (depending on snow conditions).
Opening times for mountain bike lifts from June 29th to September 1st :
Olympic cable car (pedestrians & ATVs) 9.45am-12pm / 12.30pm-4.45pm
Borsat chairlift (reserved for mountain bikes) 10.15am-12.30pm / 1.00pm- 4.25pm
Tovière : 10.00am-12.30pm / 1.00pm-5.00pm
Palafour : 10.00am-12.30pm / 1.00pm-5.00pm
Tufs : 10.00am-12.30pm / 1.00pm-5.00pm
Bike park passes :
-1 day pass : 10€
-Season adult pass* : 25€
-Season children pass* : 14€
Get your pass from the tourist office or watersports centre.
*with a proof of residence