The 20th GEM Altigliss Challenge – the student ski world cup
What: GEM Altigliss Challenge
Why: Watch students from all over the world compete and join in the celebrations!
Where: Various locations in the resort
When: 16th to 23rd March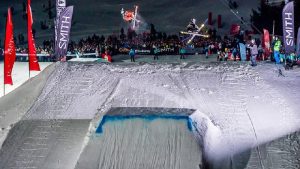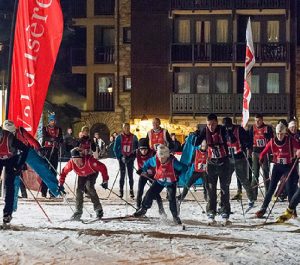 For the 8th consecutive year Altigliss association and Val d'Isère are hosting the GEM Altigliss challenge with a week of inter-university challenges on the slopes, in the mountains and in the village. Over 1000 students from all over the world are expected to attend this year's Altigliss Challenge, with 44 teams entered in the events. It's the student ski and snowboard world cup!
To celebrate the opening evening there is live music by NREC in the Altigliss village and a firework display. The celebrations will start with a parade from the village centre to the Altigliss village.
Saturday: Opening ceremony with fireworks and DJ at 9pm in the snowfront village
Sunday: Wild card qualification heats for the RHF event from 10am to 1pm in the Snowpark.
Monday: Giant slalom from 10am to 1pm on the Raye race stadium / Snowshoe race from 9.30am to 1pm in the LaisinantTuesday: Slalom race from 10am to midday – Raye stadium
Tuesday: Freestyle competition Ride (Her) First from 7pm to 10pm at the foot of Bellevarde Face
Wednesday: Boardercross from 10am to midday – Grand Pré slope /  Bubble foot from 1pm to 5pm on the roof of the sports complex / Biathlon from 5pm to 7pm
Thursday: Parasport giant slalom from 9.30am to 1pm on the Legettaz stadium / Big Air from 1pm to 4.15pm in the Snowpark / Archery tag from 1pm to 5.15pm on the roof of the sports complex
Friday: Ski touring from 9am to 1.45pm – Joseray / Skiing – snowshoes – ice skating / Prize giving from 5.30pm to 6.30pm and party evening.
See the Val d'Isere website for further details.
Run review:
Orange, red run – a steep wide piste that can have some icy patches. Follow it down through the trees to the Funival.