New evening yin yoga class at Le Refuge de Solaise Spa with Bonne Santé Alps
What: Hilltop evening yin yoga class with Rose
Why: Relax and sink into bliss in a beautiful location
Where: Le Refuge de Solaise Spa
When: Every Wednesday at 19:30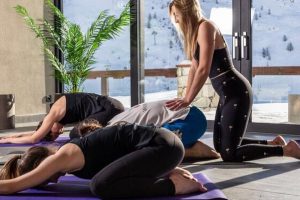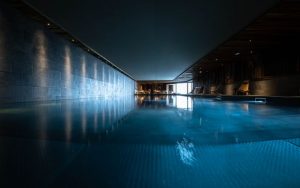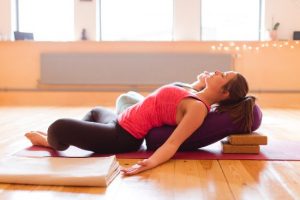 Restorative Yoga  – Reaching new heights with Bonne Santé Alps
Sink into bliss at sunset with slow movement and relaxation in a peaceful candle-lit environment at Bonne Santé Alps' new evening hilltop yin yoga class held at Le Refuge de Solaise Spa.
Yin yoga is a deeply nourishing and restorative practice.  A time when we can create some space in our life, to settle into a pose, relish in quietness and explore both mind and body through gentle flow – the perfect antidote to an energetic day on the slopes.
Feel rested, revitalized and re-energised for the rest of your week as you fall into the meditative powers of supported long held poses with the beautiful backdrop of the moonlit mountain and starry sky.
Expect to use props, and feel sage and calm amongst the warming ambience of flickering fire and the soothing sound of water.
'Let the water settle and you will see the stars and the moon mirrored in your being' –  Rumi
The class is hosted every Wednesday at 19:30, but the magical experience starts  at  19:00 as  you  journey  up  the  Solarise  bubble  lift  watching  the  stunning  evening  views  of  twinkling Val  d'Isère  drift  away  below  you.  You are then guided to the venue via torchlight before melting tensions away  on  the  mat  with  head  yoga  teacher,  Rose,  from  the  physio,  health and  well-being  company.
Rose is well aware of the very different demands living and exercising at altitude make on the body and the  varying  stresses  encountered  at  different  times  of  the  day.  Her yin classes offer heartfelt instruction, intelligent alignment, zen philosophy, an open atmosphere and empowering experience.
Each practice is enriched with love, depth of knowledge and a genuine atmosphere to heighten self-love:  find confidence, strength, and inspiration.
After class, either stay for a post-practice drink or dinner at the luxury hotel, or head back down  to  resort  in  your  soothed  and  tranquil  state.
A truly unique, special and enchanting experience. 
Rose's teaching is suitable for all levels and ages, and  naturally  she  has  a  special  interest  in yoga  for  snow  fans  and  mountain  explorers,  whether  recovering  from  injury,  keeping  fit  for the  mountain  or  simply  starting  or  maintaining  a  healthy  lifestyle.
"Yoga links the mind and body in and out of balance through the flowing of breath.  It is a live, breathing art, inspired from the depths of nature.  So, what perfect place to honour and celebrate this than in the breath-taking views of the Alps. Everyone    should experience yoga in the mountains…it's unforgettable!"
She has a fresh, modern and enthusiastic approach, and making yoga  applicable  to  the masses  and  not  niche  is  a  real  dedication  of  hers.
So whether you are a seasoned yogi or yogini,  have  experimented  with  a  few  postures  or are  a  complete  newbie,  Bonne Santé Alps hope to see  you  on  a  mat  soon  at  the  hilltop  candlelit  yin  or  any  of  their timetabled  classes!
Hilltop classes are 35€
All other timetabled classes are 15€
To book, please contact concierge@valdiserelocation.com