Action Sportive – Pilates in the comfort of your chalet
What: Pilates sessions with chartered physiotherapists
Why: Strengthen, tone and relax your body
Where: In the comfort of your chalet
When: By appointment, throughout the winter season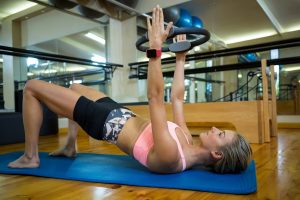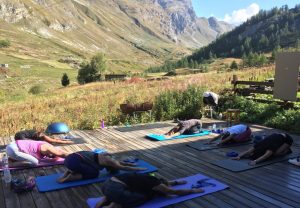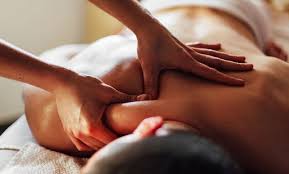 Why not try a Pilates session in the comfort of your chalet during your ski holiday this season? Action Sportives' chartered physiotherapists are specialised in Pilates and can offer levels from beginners to advanced.   If you have a current injury they can adapt the session to you and it is great for rehabilitation.
Some people prefer Pilates before skiing for a warm-up, some like a session during the day and some like an après-ski Pilates session.  Action Sportive can adapt to the times you'd like!
What is Pilates?
Pilates is a low-impact exercise that focuses on strengthening and toning the body using your core muscles and correct breathing techniques.  Once your core muscles are activated you can then do exercises with your other limbs which will strengthen all your muscles – especially your core muscles.  These exercises help to improve your posture, gain strength, prevent injuries and improve performance in sport.
The exercises are carried out in a variety of positions from lying, sitting and standing.  For some of the exercises we use equipment such as thera band, small soft balls, the Pilates ring, hand weights and big gym balls. The session can range from low level to a high intensity workout depending on the aim of the session for you.  Some people think that Pilates is too easy, but if you have a hard session you will definitely feel the burn in your muscles and will most likely ache the next day. It's up to you!
Pilates is also very good during and after pregnancy. It helps keep your core as strong as possible during pregnancy and helps you recover your strength during the post natal recovery period.
As well as Pilates, Action Sportive offer the following services.
Physiotherapy
Sports massage
Pregnancy massage
Relaxation massage
Hot stone massage
Yoga
Bio-mechanical assessments
Facials
Body scrubs
To book please contact us: concierge@valdiserelocation.com